2016 Nissan Altima vs 2016 Honda Accord
Looking for the perfect mid-size sedan to get you and your family around Tacoma? You might be trying to decide between the 2016 Honda Accord and the 2016 Nissan Altima. Which of these vehicles are right for your family in Bonney Lake? Puyallup Nissan can help you decide!
---
Power
The 2016 Nissan Altima features a choice of two powerful engines. Choose from the base engine, a 2.5L 4-cylinder that uses a dual overhead cam shaft and a continuously variable valve timing control system on the intake as well as exhaust valves to produce an impressive 182 hp and 180 lb-ft of torque. This engine is paired with a standard front wheel drive, as well as an Xtronic continuously variable transmission that constantly finds the perfect gear ratio for your power and speed. This engine gets an incredible 39 mpg highway. You can also choose the 3.5L V6 engine, which uses a dual overhead cam shaft and CVTCS on the intake valves only to produce an astonishing 270 hp and 251 lb-ft of torque. The transmission on this engine comes with paddle shifters and a manual sport mode for a more spirited drive when you want it, and gets a respectable 32 mpg highway.
The 2016 Honda Accord provides a choice of two engines. The base engine is a 2.3L in-line 4-cylinder engine, which produces 185 hp and 181 lb-ft of torque. It has an Eco Assist system, which helps it to use less power when it needs to make the fuel stretch, leading to a slower and less powerful ride home. This engine uses a dual overhead cam shaft and direct fuel injection. It comes with a standard six-speed manual transmission that gets up to a paltry 34 mpg highway, or an extra add-on CVT that lets this engine get up to 37 mpg highway. Your other choice is a larger 3.5L V6 engine, which uses variable cylinder management to produce 278 hp and 252 lb-ft of torque with a single overhead cam shaft. This engine uses multi-point fuel injection, and comes with a 6-speed automatic transmission that gets a mere 34 mpg highway.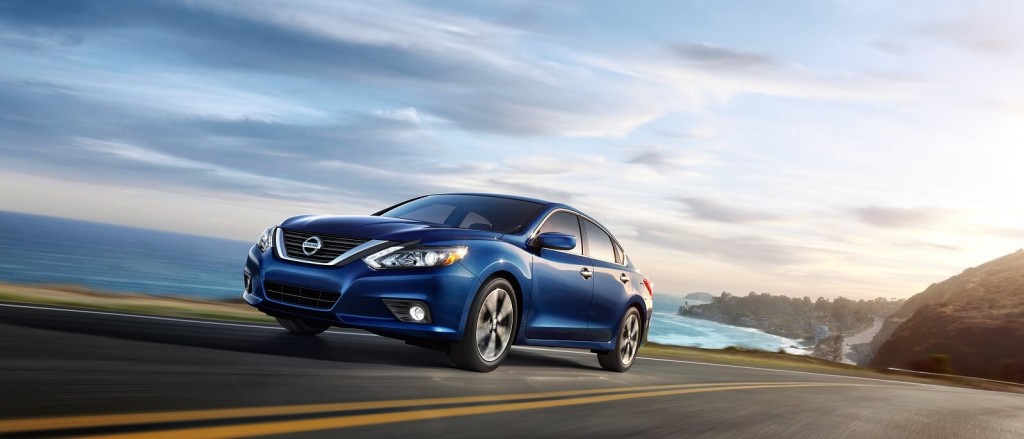 Features
The 2016 Nissan Altima has plenty of features for convenience, safety, and comfort that you'll love as you drive your family around Puyallup! However, not all of these up-to-date features and technology are available on the 2016 Honda Accord, although some of them may be available on the Accord as a pricey extra. See what you'll get when you buy the 2016 Nissan Altima today:
Standard cargo net and cargo tie downs to make sure that all of your gear stays exactly where you want it to
Real leather gear shift trim for your shifting comfort
Power remote trunk release that makes it simple to load your cargo into the trunk even when your hands are full
Standard DVD and audio system that makes it easy to entertain the passengers in your back seat, keeping your kids quiet or keeping the party going wherever you are
Nine premium name brand speakers that come with a standard amplifier for premium concert quality sound tuned to the unique acoustics in your car
Standard blind spot sensors that use radar to detect when there are objects in your blind spot area and alert you to their proximity and on which side, avoiding a potential accident
A sophisticated black grille trim with classy chrome accents that give the Nissan Altima an expensive and classy look
18-inch machined aluminum wheels for a lightweight but substantial ride as you drive along
Which Car is Right For You?
The 2016 Nissan Altima includes a choice of two engines, which provide power that's only a smudge under the spirited driving and raw push of the Accord's engines. However, for most drivers of this mid-size sedan, a few horsepower one way or the other won't make for much difference during long commutes and during highway merging and passing maneuvers.
The cost of fuel is rising every day, and most buyers looking for a sensible mid-size sedan are more concerned about fuel efficiency, where a few mpg more or less can really make the difference between an affordable car that will last for years or a gas-guzzler that can curtail family pleasure drives. When you choose the Nissan Altima, you'll get great fuel efficiency on the base engine as well as the extra features and technology that make a difference. Safety features like a blind spot sensor can help to prevent many accidents, while the DVD entertainment system can keep your kids quiet and happy on even the longest vacation drives.
Get Your 2016 Nissan Altima today
Are you ready to find the perfect mid-size sedan for you in the 2016 Nissan Altima? Puyallup Nissan can help! Call our sales staff today at (253) 848-4507 to schedule a test drive, or come to see us at 101 Valley Ave NW in Puyallup.