2016 Nissan Altima vs 2016 Ford Fusion
Finding the right sedan for your family in Puyallup, Tacoma, and Bonney Lake is important. After all, you want a vehicle you can count on to get you everywhere you need to go, and to do it efficiently and safely. If you find yourself comparing the 2016 Nissan Altima vs the 2016 Ford Fusion, you'll quickly realize that one car is better than the other. While they may seem similar from the outside, the Altima actually beats the Fusion in terms of price, fuel economy, power, and added features. Take a look below to see why the new Altima outshines the competition.
---
Price
Finding an affordable sedan is always a plus. You don't want to spend all your money on a vehicle, and when you choose the Nissan Altima, you don't have to. This vehicle has a starting MSRP of $22,500, and you'll be amazed at everything you get for this low price. The Ford Fusion is a little higher on the price tag with a starting MSRP of $22,750. While it may not seem like much, you won't want to pay extra for a vehicle that doesn't give you nearly as much as the Altima.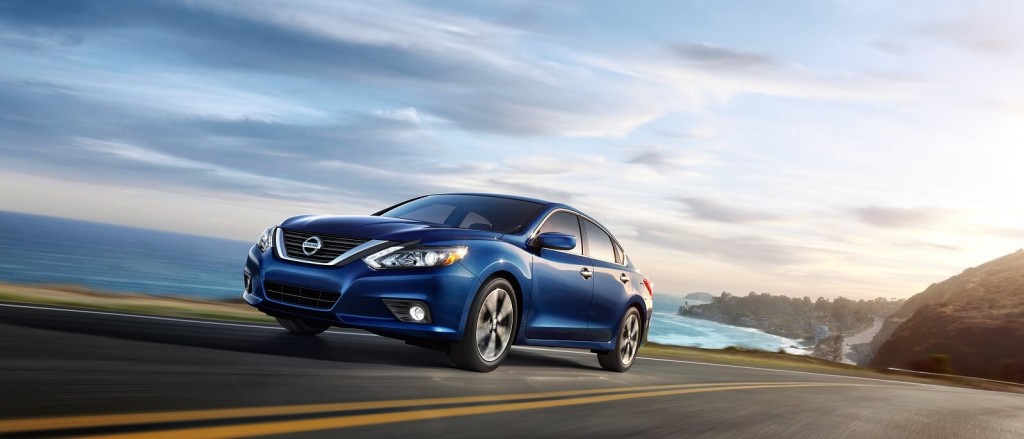 Fuel Economy
When you get on the road, you want to arrive at your destination quickly. This means you need a vehicle that will allow you to enjoy more of the road instead of stopping for gas. The 2016 Nissan Altima has impressive fuel economy. This new model has an EPA-estimated 27 city, 39 highway, and 34 combined mpg. When you compare this to the Fusion, it's even more impressive. The Fusion only has an EPA-estimated 22 city, 34 highway, and 26 combined mpg. So if you want to be able to see the road instead of every gas station in the area, then make sure you're choosing the Altima over the Fusion.
Power
Getting around town means doing so with a vehicle that offers some impressive power. If it's a thrilling driving experience that you're after, then the Nissan is the right choice to make. This vehicle comes with a 2.5L I4 DOHC engine that generates 182 hp and 180 lb-ft of torque through the Xtronic CVT transmission. The Ford also offers a 2.5L I4 DOHC engine, but this one only delivers 175 hp and 175 lb-ft of torque. So if its power and performance that you're after, be sure you're making the right vehicle choice.
Features
When you compare the Nissan Altima and the Ford Fusion side by side, you will notice that there are plenty of similarities. No matter which vehicle you choose, you will find features like 60/40 split rear seats, cloth material, seating for five, and remote keyless entry. However, there are also things on the Altima that you won't find on the Fusion.
Push button start allows you to start your vehicle and get on the move without needing to fuss with a key
Adjustable front head restraints ensure that driver and front passenger can maintain a comfortable ride
Standard rear armrests provide an extra touch of comfort for those who sit in the back
Leatherette door trim insert adds a detail to the cabin that will not go unnoticed
Standard radio data system provides you with the information you need exactly when you need it
Multiple door curb courtesy lights help you and your passenger navigate the area in the dark
7-inch-wide wheels add necessary traction to keep you safe while on the road
Which One is Better?
Now that you've compared the 2016 Nissan Altima vs. the 2016 Ford Fusion, you can tell that there's a clear-cut winner. When you opt for the Altima, you'll receive more power to maneuver the open roads, better fuel efficiency to keep driving for longer, and more interior and exterior amenities that make the car a must have. Plus, you'll get it all for a lower price, and that's always an added perk for anyone in Puyallup, Tacoma, or Bonney Lake.
Find One at Puyallup Nissan
Finding the right sedan can make driving through Puyallup, Tacoma, and Bonney Lake more enjoyable. If you're looking at the 2016 Nissan Altima vs the 2016 Ford Fusion, you'll quickly realize that the Altima is the better choice in terms of power, efficiency, and additional features. When you're ready to make your purchase, head to Puyallup Nissan at 101 Valley Ave NW in Puyallup, contact us online, or call us at (253) 848-4507 to schedule your test drive.